Welcome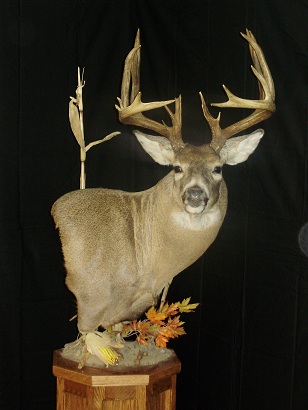 At Wildlife Reflection, many people have been impressed for many years with our creativity, attention to detail, and friendly service. We use modern, state-of-the-art methods and materials to ensure your satisfaction and the beauty of your mount.
In our years of experience we have committed ourselves to attending competitions and seminars to better ourselves as a taxidermist.

We give God the credit for our ability to create such beautiful works of art.

Our commitment is to professionalism and the highest level of artistic quality.
Proof of Quality
When Gander Mountain Corporation came to Lansing, MI to open a new store they were looking in the surrounding area for a taxidermist to design and display a unique array of mounts on the mountain inside the store. We were humbled when we were chosen for the job. As you can see the Lansing, MI store turned out fantastic. They were so impressed that we signed a contract to do 15 of thier new stores around the country.
Here at Wildlife Reflection with my 23 years experience have won awards and been nationally certified in taxidermy. No job is too small nor too big, doing animals from locations all over the world.
Come visit Wildlife Reflection showroom and see for yourself the quality of our work.
Wildlife Reflection Taxidermy Studio
12178 Forest Hill Rd.
Dewitt, MI 48820
Our Mission
Wildlife Reflection is not just a business...
it's a passion and a way of life
We are not your average taxidermy studio. The quality and workmanship surpasses any expectations. A few things that we believe in regards to my work are as follows:
We are not in the business to rush your job and provide an inferior mount.
Attention to detail and creativity are of the upmost importance.
The quality of the work will never be compromised.